Luxury Hand Engraved Calligraphy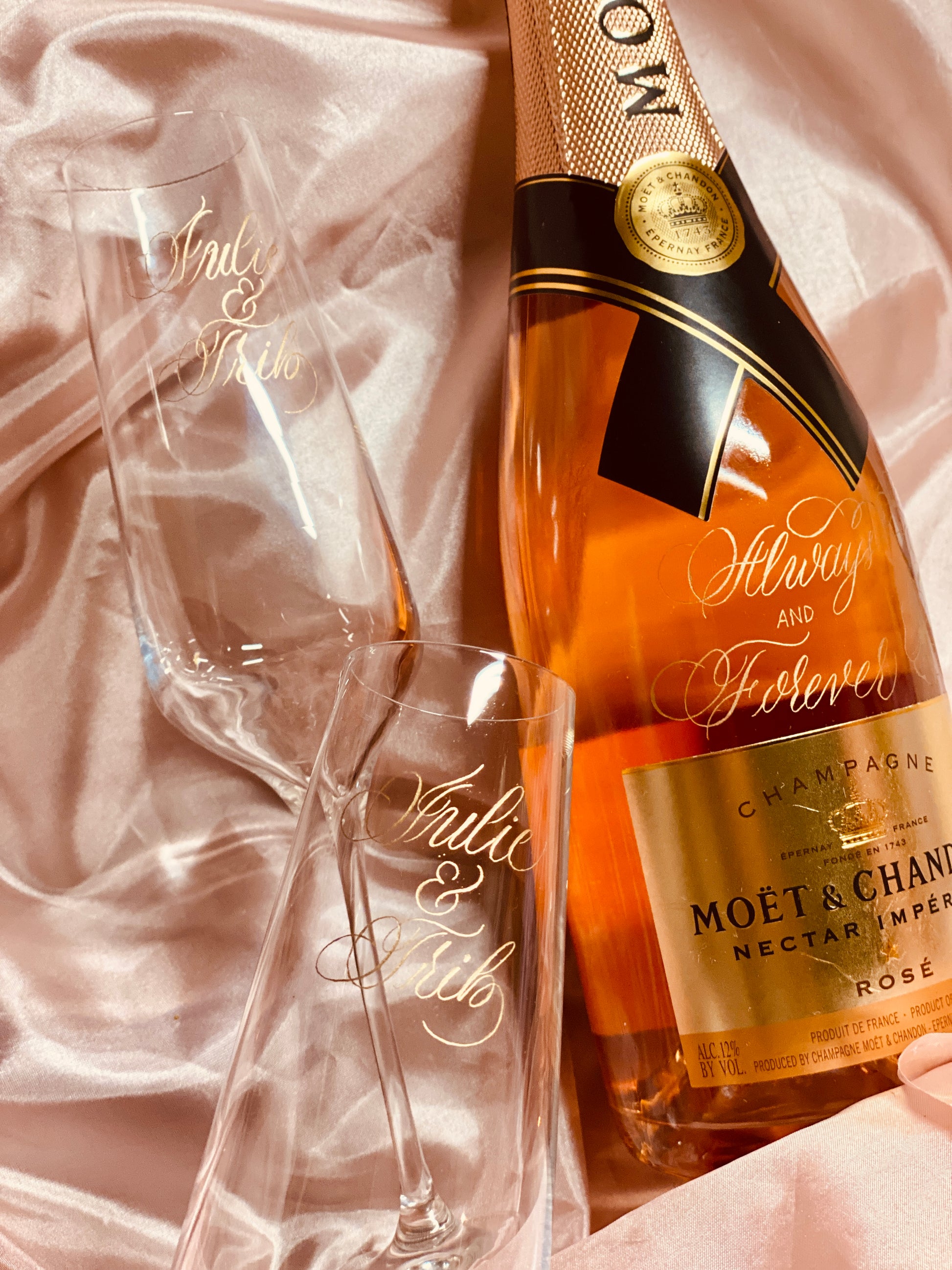 What is Calligraphy Engraving?
Engraving is a form of decoration that involves carving a design into a material, causing the art to become a permanent feature of the material. This technique has been used by artisans for centuries!

I marry this time honored technique with my signature calligraphy script, creating beautiful objects that are alive with flowing linework and style.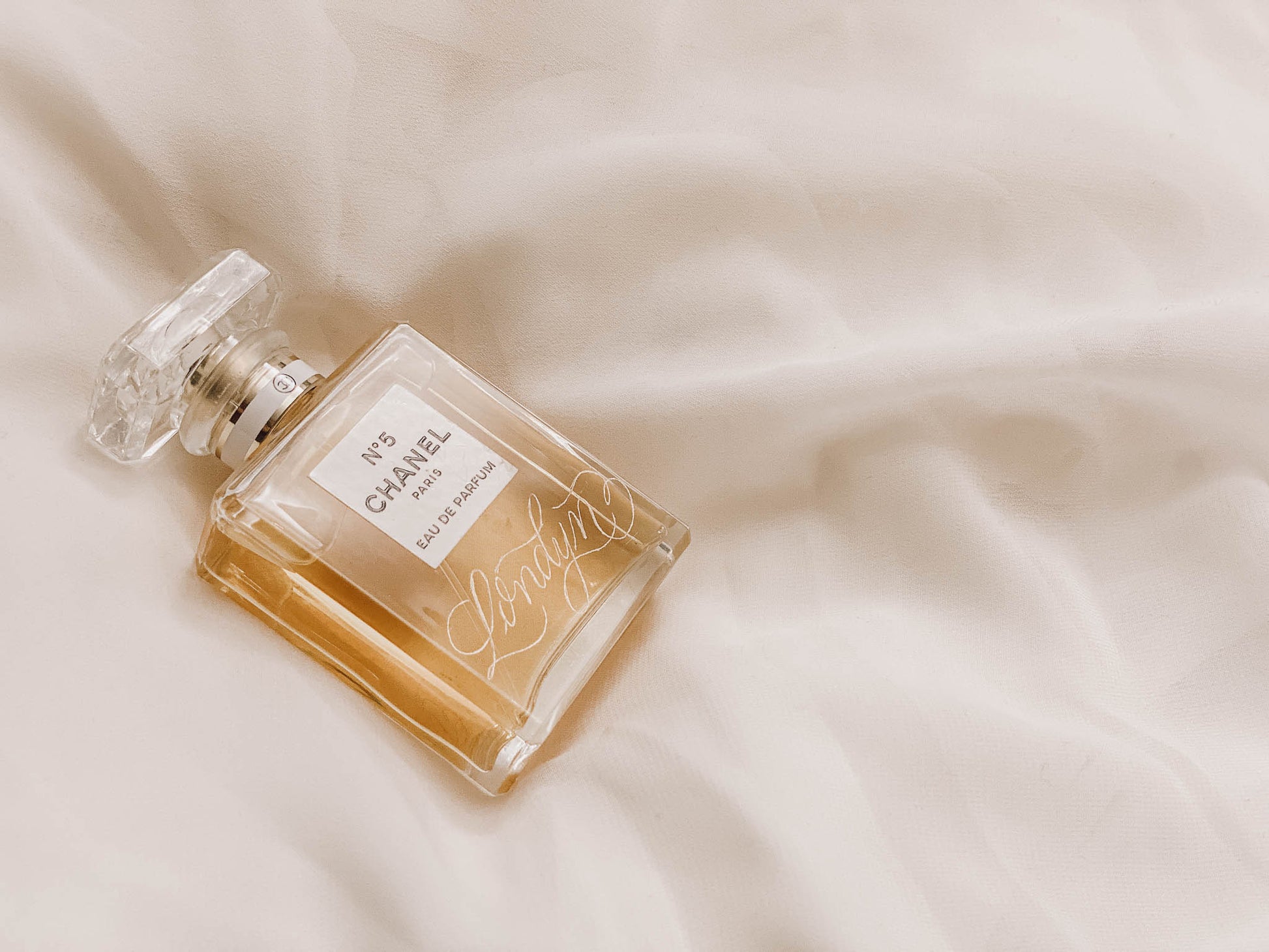 The Artistic Process
My engraving work is always completed in-house by hand and never involves lasers, which is perfect for unconventionally shaped items and live events.

My triple-pass process ensures that all of my engraved art achieves a bright and even finish across the surface of the object.

For those who want a little extra shimmer (and I always do!), the completed design can be finished in sparkling silver or an array of dazzling gold shades. Unfilled designs will show as frosted on most glass materials, and reveal underlying layers of metal on most coated metal materials.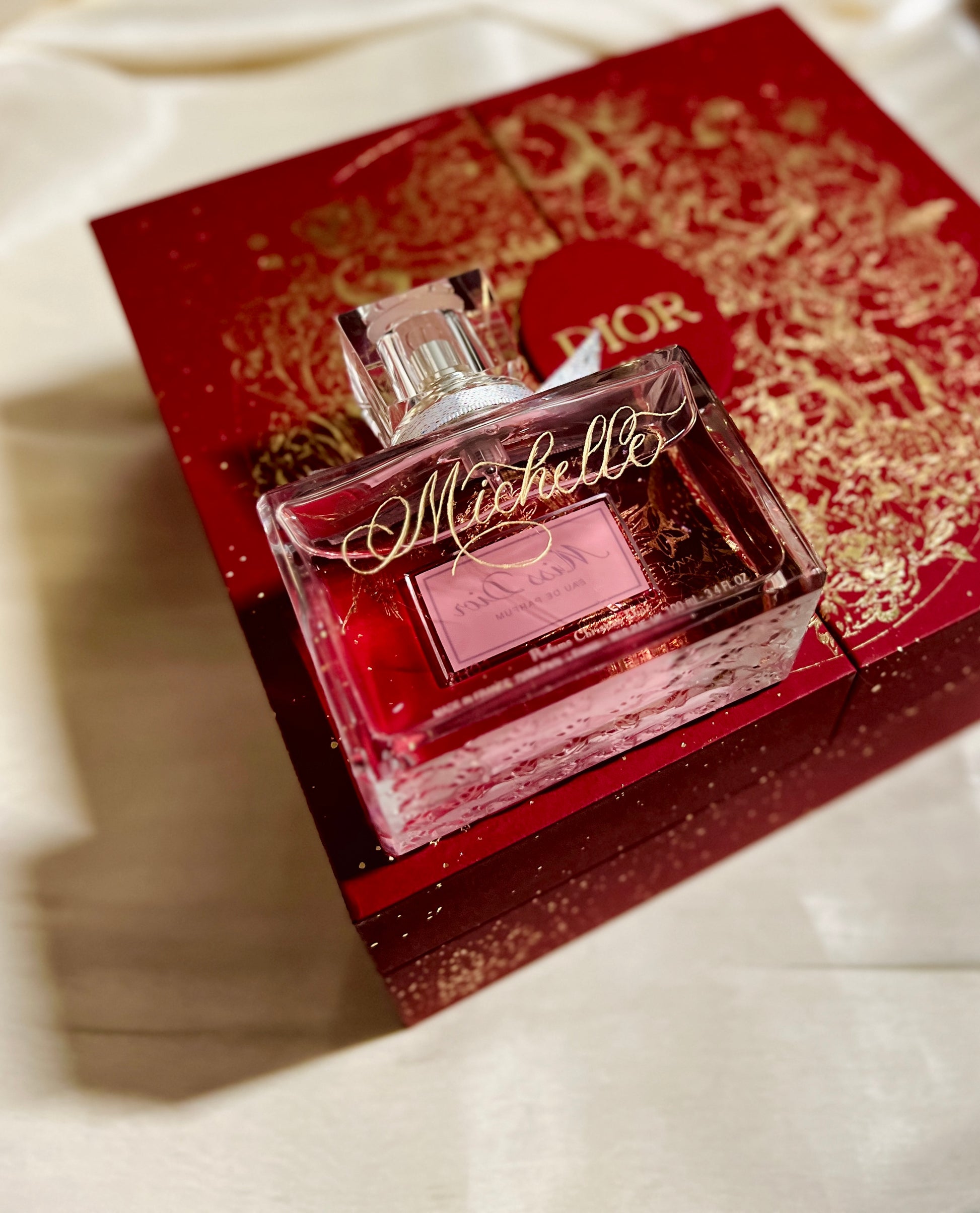 What Can Be Engraved?
Your favorite wine bottles, fragrances, glass drinkware, and many other items are perfect candidates for my engraving service.
Please note that champagne and other pressurized bottles pose an explosion risk to me during the engraving process. As such, any champagne bottles will be purchased by me on your behalf to ensure proper handling.
I offer hand-painted champagne bottles as an alternative, please visit my Fine Art Bottle Painting page for more information.
The object must have a portion of smooth surface large enough to accommodate your design in order to be engraved. 

My most requested (and favorite!) items to engrave are those made of glass. 
Pricing & Ordering Details
IN STUDIO PRICING 

Prices are based on each individual request, requirements, & design.

Minimum baseline pricing is as follows:

Small Cosmetics: $35

Wine & Champagne Glasses: $40+

Fragrance Bottles: $75

Wine and other large bottles: $100+

Champagne/Sparkling Wine: $150+



Pricing is for the engraving service only. Your item(s) will need to be shipped to me, or I can arrange a local pickup if within 15 miles of Decatur, GA. I will provide my shipping address after a paid deposit is received for your project.

As of February 1, 2023 a $20 fee will be applied to all local pickup and drop-off orders.

Deposits are required for all booked services. Please visit the Shop Policies page for more information.

Restrictions on shipping alcohol apply if your shipping address is located outside of the state of Georgia. Empty bottles are fine to ship.

ORDERING & SHIPPING

To book this service and reserve a spot on my calendar, please purchase the deposit listing here. I will respond within one business day to finalize the details of your request. 

Once I've confirmed your order and your deposit & item(s) have been received, I'll start the design & engraving process. My standard processing time is one week from the date I receive your item. 

Please note that during holidays this time can be greatly increased, so I recommend booking as soon as possible!

The Christmas, Valentine's Day, Mother's Day, and graduation seasons are all periods where I experience peak requests. Booking early will ensure that I can actually accept your project and have it to you in a timely manner.

When completed, I will ship your item using the agreed upon shipping method. If applicable, your final project balance is due before I can ship.

More information about shipping, processing, and payments can be found on the Shop Policies page.

CORPORATE & EVENT PRICING

My 2023 Services & Pricing Guide for corporations, brand activations, and special events is available by request. Please visit my On-Site Event page for more information.
Looking for something else?