Leather Goods Customization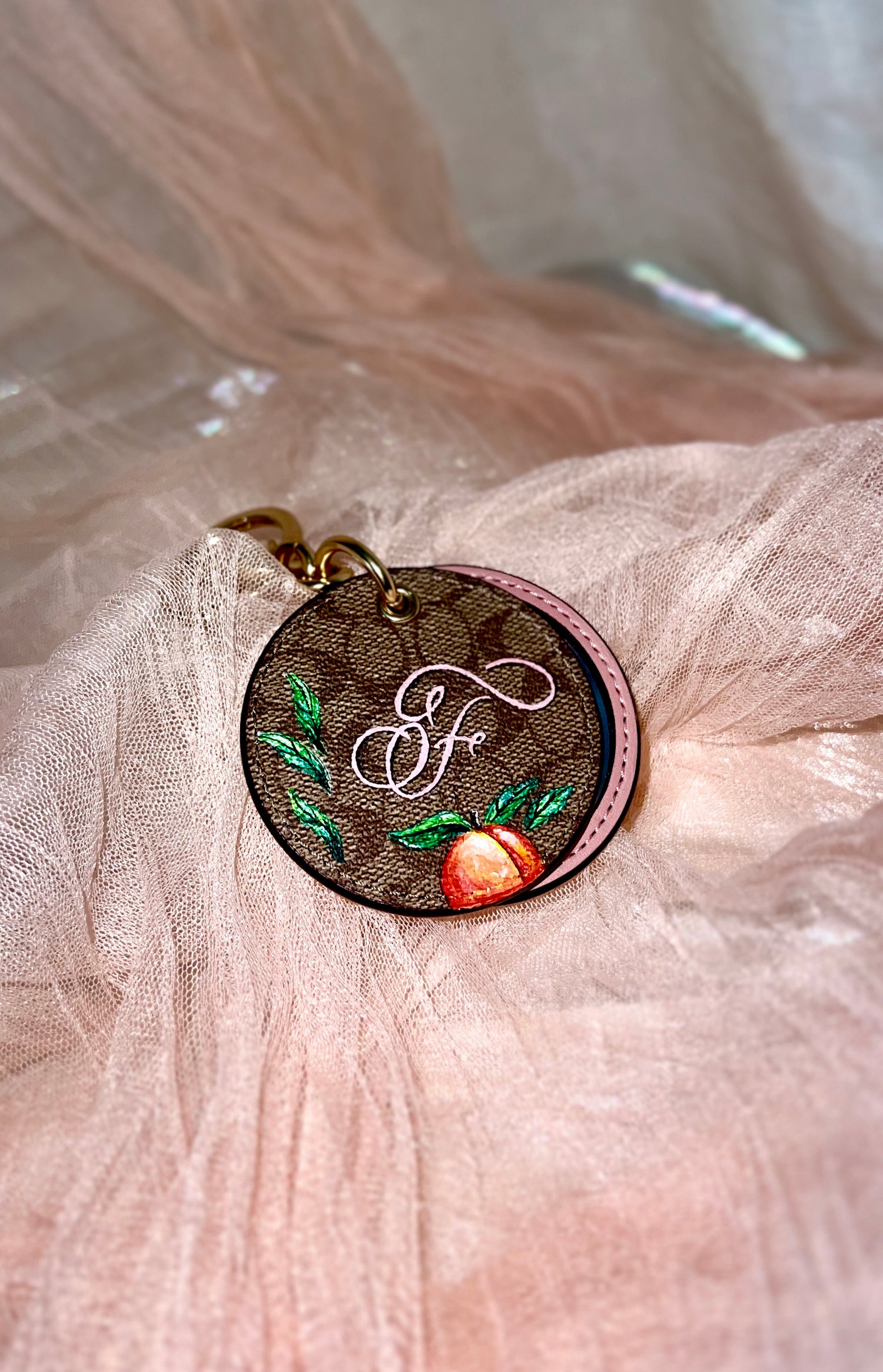 Hand Painted Personalization
Add a unique twist to your leather goods by having your initials or design of your choice painted on! I use the highest quality Japanese paints to achieve a bright result & long lasting finish, and my fine art techniques to ensure everything is perfect to the tiniest detail. This service is suitable for both natural and vegan leather items. Monograms are my most requested item to paint, and always feature my signature calligraphy script.
For glass painting options, please visit the Fine Art Bottle Painting Service page.
Hot Foiling
I'm able to add beautiful foil details with the use of a professional handheld burner to your leather goods. Ideal for smooth and pebbled leather finishes, the foil design will become a permanent addition to your items. Popular foil colors are gold and silver, but I can accommodate most other color requests as well.
Due to the nature of foiling, any text will be completed in a simplified version of my signature calligraphy script to maximize readability.
Pricing & Ordering Details
IN STUDIO PRICING 

Prices are based on each individual request, requirements, & design.

Minimum painting pricing is as follows:

Single Monogram: $80

Double Monogram: $100

Single Design Element (floral, fruit, etc): $80


Minimum foiling pricing is as follows:

Single Monogram: $40

Double Monogram: $50

Full Name: $75


Pricing is for the customization service only. Your item(s) will need to be shipped to me, or I can arrange a local pickup if within 15 miles of Decatur, GA. I will provide my shipping address after a paid deposit is received for your project.

As of February 1, 2023 a $20 fee will be applied to all local pickup and drop-off orders.

Deposits are required for all booked services. Please visit the Shop Policies page for more information.

ORDERING & SHIPPING

To book this service and reserve a spot on my calendar, please purchase the deposit listing here. I will respond within one business day to finalize the details of your request. 

Once I've confirmed your order and your deposit & item(s) have been received, I'll start the design & customization process. My standard processing time for foiling is one week from the date I receive your item, and two weeks for painting.

Please be advised that large/complex paintings may require longer working times.

Also note that during holidays this time can be greatly increased, so I recommend booking as soon as possible!

The Christmas, Valentine's Day, Mother's Day, and graduation seasons are all periods where I experience peak requests. Booking early will ensure that I can actually accept your project and have it to you in a timely manner.

When completed, I will ship your item using the agreed upon shipping method. If applicable, your final project balance is due before I can ship.

More information about shipping, processing, and payments can be found on the Shop Policies page.

CORPORATE & EVENT PRICING

My 2023 Services & Pricing Guide for corporations, brand activations, and special events is available by request. Please visit my On-Site Event page for more information.
Looking for something else?
*** PUT FOILING VIDEO HERE ***